Tuesday, April 28, 2015
Tweet
Photo of the night - May 28, 2015 - Greensboro, NC
Photo by @brianheldman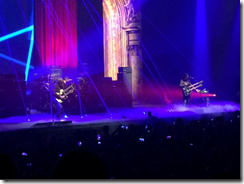 Labels: photo of the night, R40
posted by AndyO @ 11:12 PM
0 comments
Thursday, April 02, 2015
Tweet
Neil Peart wins 2015 MD poll award for Best Recorded Performance (Video)
The results for the Modern Drummer 2015 Readers Poll are in, and Neil Peart took the top spot for Recorded Performance (Video) category:
Neil Peart, Clockwork Angels Tour (Rush)
Mike Mangini: Live at Luna Park (Dream Theater)
Simon Phillips: Live in Poland: 35th Anniversary Tour (Toto)
Zakir Hussain with Steve Smith, Eric Harland and Giovanni Hidalgo, The SFJazz Sessions (Zakir Hussain)
Brann Dailor, Live at Brixton (Mastodon)
For those who are counting, Neil has now won Best Recorded Performance 15 times! Here's the full list:
1981: Moving Pictures
1982: Exit... Stage Left
1983: Signals
1985: Grace Under Pressure
1986: Power Windows
1988: Hold Your Fire
1989: A Show of Hands
1990: Presto
1992: Roll The Bones
1993: Counterparts
1997: Test for Echo
1999: Different Stages
2005: R30
2007: Snakes & Arrows
2015: Clockwork Angels Tour (Video)
In recent years, Peart has won additional awards, including:
Modern Drummer Reader's Poll 2014: #1 Educational Book - Taking Center Stage by Joe Bergamini and Neil Peart

Modern Drummer Reader's Poll 2013: MVP, Best Prog Drummer

Modern Drummer Reader's Poll 2012: Best Prog Drummer

Modern Drummer Reader's Poll 2012: Best Educational Video - Taking Center Stage
Congratulations to all the winners!
Labels: awards, Clockwork Angels Tour Video and CD, Modern Drummer
posted by AndyO @ 11:46 AM
0 comments
Wednesday, April 01, 2015
Tweet
Neil Peart's handlebar mustache returns! (AFD)
Update 4/1/15 - 5:30 PM PDT
As most of you have figured out, this was an April Fool's Day story. Thanks, everyone, for playing along - and apologies for creating any confusion or false hope for the return of the 'stache!
---------------------------------
The incredible news continues. First, Neil Peart found his motorcycle luggage after 11 years. And now, according to this interview, it appears his trademark handlebar mustache is also making a comeback for the R40 tour--after 37 years!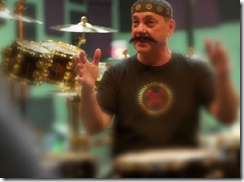 This is a must read: "Fighting the Good Fight: An Iconic Moustache Returns to the Stage"
Labels: AFD
posted by AndyO @ 2:00 AM
0 comments