Tweet
Neil Peart Signature UrbannBoards Drummer Shoes
Updated 1/29/14
UrbannBoards posted info on their Facebook page about how to purchase these shoes:
HOW TO PURCHASE NEIL'S SIGANATURE SHOE!

The first 150 pairs will be sold through URBANNBOARDS facebook fan page ( facebook.com/ubshoes)
Share the post that will go on February 2nd, comment with your name, e-mail, shoe size, then we will send the charge of US$169,90 thru PayPal.
With the shoes you will also receive a metal tag with your name on it, the serial number and Neil Peart's Signature....
First come first serve, we will send you an e-mail and when the payment is completed, then your order will be confirmed. If the payment is not confirmed, the next person will take place, (But you still receive your shoes, just without the tag after shoe #150)
The shoes will be sent via UPS and the freight will be charged according to your location, it will be ready to be shipped within 45 days directly from the factory in Brazil.
For the very first shoe, there will be an auction, and the money donated to a Children Institute Charity, for that there will be a special post on February 2nd as well.
UrbannBoards Drummer Shoes introduced Neil Peart Signature shoes at NAMM this week.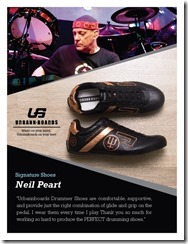 I'm waiting to get information from UrbannBoards about how to order these shoes (you can contact them directly at ubshoes@gmail.com). You can also read some reviews here:
Verdict - 4 out of 5 stars

In today's drumming, the feet are just as important as the hands and Urban Boards may provide the ideal solution. There's an intimate connection with the pedal board and yet the shoe provides support while the thin rubber sole is enough for stress and shock protection.
So let's go back and answer the question "are these shoes a gimmick?"

The evolution of drumming has come a long way since our ancestors hit hollowed out tree trunks with branches. What would we have done without the invention of drum sticks? If the hi hat pedal hadn't been invented our cymbals would still be placed 12 inches off the floor. What about the double bass drum pedal? The boom stand? The list goes on and you get the idea. While I am not saying that these shoes are as important as these devices that we now take for granted, if something new comes along to help us play better or more comfortably then bring it on! These shoes are no gimmicks.
Labels: NAMM, UrbannBoards Drummer Shoes
posted by AndyO @ 1:02 PM
0 comments