Tweet
Neil Peart's handlebar mustache returns! (AFD)
Update 4/1/15 - 5:30 PM PDT
As most of you have figured out, this was an April Fool's Day story. Thanks, everyone, for playing along - and apologies for creating any confusion or false hope for the return of the 'stache!
---------------------------------
The incredible news continues. First, Neil Peart found his motorcycle luggage after 11 years. And now, according to this interview, it appears his trademark handlebar mustache is also making a comeback for the R40 tour--after 37 years!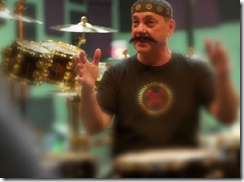 This is a must read: "Fighting the Good Fight: An Iconic Moustache Returns to the Stage"
Labels: AFD
posted by AndyO @ 2:00 AM
0 comments