Tweet
2012: An epic Rush year
2012 was quite a year for Rush, Neil Peart, and the fans. There was the release of critically-acclaimed Clockwork Angels, followed by a hugely successful North American tour. But there was also Rush's long-overdue nomination and induction into the Rock and Roll Hall of Fame -- an honor that the fans helped champion since the band became eligible in 1998.
In 2013, Rush is scheduled to tour Europe and is expected to add more dates in the United States. Geddy Lee has also indicated that the band will also perform at the Rock and Roll Hall of Fame induction ceremony. Stay tuned.
For now, peruse some of the highlights from the past year from Neil Peart and Rush:
January 2012
- Neil Peart news update, "At the Gate of the Year." Lots of great stories and reflections in this one, including:
Now, at the pivot of another year (my sixtieth, I am proud to crow--how foolish to regret the passing years, if you consider the alternative), I am drawn to a kind of "reckoning," a time to pause and reflect. The title phrase has long resonated for me that way: "the gate of the year."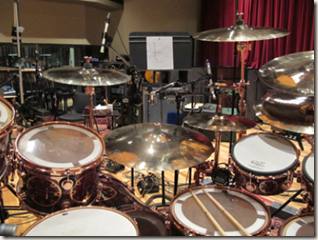 - Andrew MacNaughtan, who had taken many of Rush's photos since 1989, passed away suddenly on January 25, 2012.
Read Neil's remembrance of Andrew here.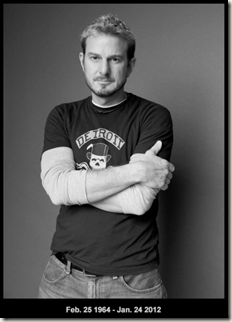 March
- Neil Peart inducted into the Classic Drummer 2011 Hall of Fame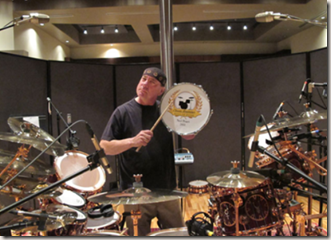 - Neil Peart featured in Motorcyclist Magazine - April, 2012: Brian Catterson, former Editor-in-Chief of Motorcyclist Magazine (and West Side Beemer Boyz guest rider), wrote a story about riding with Neil Peart during the 2011 "Time Machine Tour."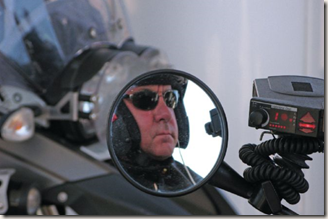 - Neil Peart recorded demos for an upcoming Vertical Horizon album on a new DW drum kit.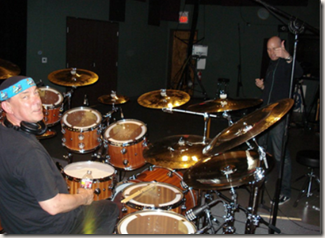 April
- "XYZ - A tribute to Rush" EP released: Sonic Reality's David Kerzner collaborated with other musicians on a unique project called XYZ - A Tribute to Rush. Performers included John Wesley (Porcupine Tree), Dave Kerzner, Billy Sherwood (Yes), Rik Emmett (Triumph), Matt Dorsey, Randy McStine, and Neil Peart Drums by Sonic Reality. Click to read an exclusive interview with David Kerzner.
- Rush receives Revolver Golden Gods Lifetime Achievement award: Neil Peart accepted the Ronnie James Dio Lifetime Achievement award. The award was presented by Tenacious D (Kyle Gass and Jack Black). During the speech, Neil said, "Our lifetimes aren't over. Our achievements aren't over. But this is, like, so far so good, and we'll keep trying to get better."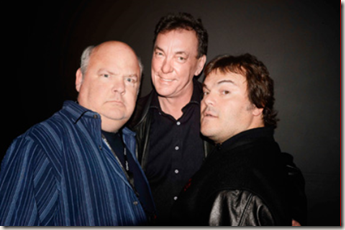 - "Headlong Flight" single released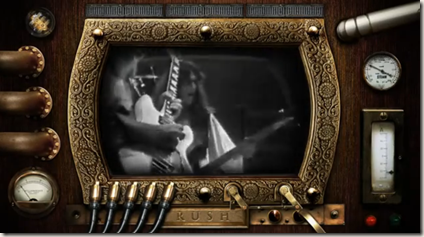 May
Rush receive Governor General Performing Arts Award: Rush were in Ottawa to accept the award for 2012 Lifetime Artistic Achievement (Popular Music).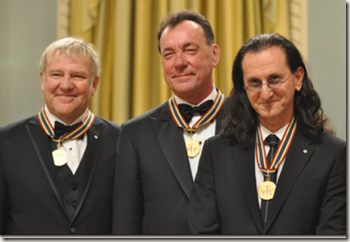 June
- Neil Peart news update, "Where Words Fail, Music Speaks."
My first principle of art is, "Art is the telling of stories." What might be called the First Amendment is, "Art must transcend its subject." However, sometimes art's natural subject--life--transcends even the mightiest attempt at conveying it.
- Neil Peart wins two Modern Drummer 2012 poll awards, including:
Best Prog Drummer
Best Educational DVD - Taking Center Stage
- Jim Ladd interviews with Neil Peart (audio)
- Clockwork Angels, Rush's 20th studio album, released on June 12, 2012.

- Neil Peart participates in Drummer's Reality Camp Roundtable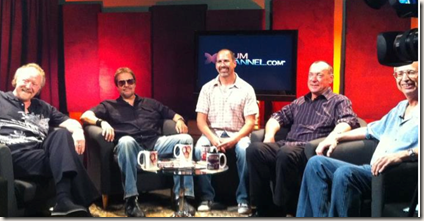 July
- Neil Peart featured in a short New York Times Magazine article, "How to Find Balance in Life."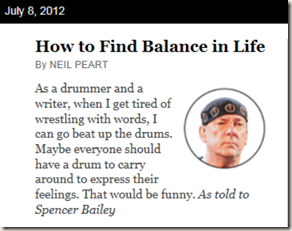 - Neil Peart's Clockwork Angels essay published, "The Future as Seen from the Past (Or: "Yesterday's Tomorrowland") published
- Neil Peart and his riding partner Michael Mosbach join Twitter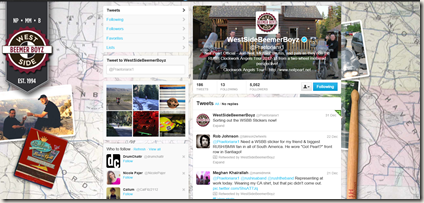 August
- Neil Peart interviewed in Maclean's
Excerpt:
Q: Thirty-eight years ago you joined Rush, and the next day you went shopping for instruments for your first tour. What are your memories of that time?
A: I remember all of us riding in the truck down to Long & McQuade [a music store in Toronto]. What a young musician's dream, to say, "Look at those chrome drums. Look at that 22-inch ride cymbal. I'll have those." It was one of those unparalleled exciting days of your life.
September
- Clockwork Angels - The Novel released: Kevin J. Anderson, author of many books and sometime collaborator of Neil Peart's, wrote an excellent novelization of Clockwork Angels. The novel would go on to debut on the NYT bestseller's list at #18. The audio version of the novel was read by Neil Peart.
Clockwork Angels tour begins!
- Sep 7, 2012: Opening night in Manchester, NH
As I followed along on Twitter, I was genuinely surprised with the changes to the show, including:
Deep cuts from Power Windows, Grace Under Pressure, and Roll the Bones for the first time in many years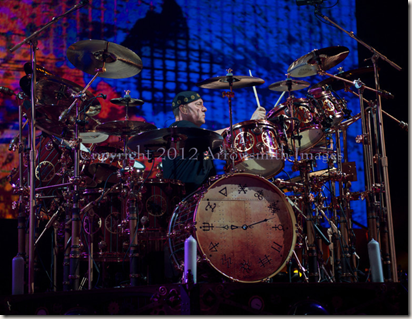 A small orchestra joining the band onstage as they played through much of Clockwork Angels and a few other songs.
Three (yes, three!) drum solos by Neil Peart (still playing his Time Machine kit)
Neil Peart firing T-shirts from a cannon!
- Sep 9: Washington, DC - More set changes
Rush changed the set again, swapping out multiple songs. This trend would continue until they settled on essentially two main sets. To see how many sets Rush played on this tour, check out this handy table at Power Windows. (In case you were wondering, there were 12 different sets.)
Neil Peart interviewed as part of New York Times article about drumming and fitness.
"Mr. Peart, who reported changing out of sweaty clothes two and three times a day, joked: "Obvious business opportunity. 'Do you want to lose weight and tone your entire body, from your nose to your toes? Sign up now for the fabulous new Bubba Drum Workout!'" (Bubba is Mr. Peart's nickname.)
- Sep 10 - Rush receive "Album of the Year" from Progressive Music Awards for Clockwork Angels
- Sep 11 - Neil Peart cover story in DRUM!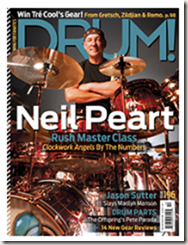 - Sep 12 - Neil's 60th birthday
While Neil celebrated this major milestone on the road, there was also a virtual party in the Twitterverse with Rush fans, friends, and colleagues wishing the Professor many happy returns.
- Sep 17 - Clockwork Angels the Novel debuts at #18 on the New York Times bestsellers list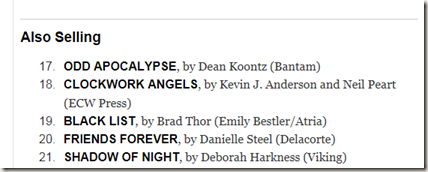 October
- Oct 5 - Rush nominated for the Rock and Roll Hall of Fame
I was actually pretty stunned by this one. I never thought they'd get nominated (let alone get inducted).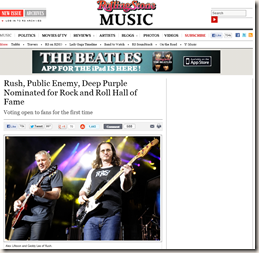 - Oct 11 - Tour Update #1 from NEP: "The Better Angels"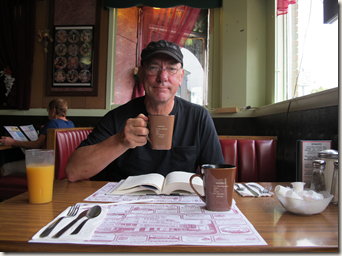 - Oct 15 - Taking Center Stage companion book released
- Oct 15 and 17 - Rush plays two nights in Toronto
Neil Peart meets Don George, his first drum teacher, for the first time in over 45 years.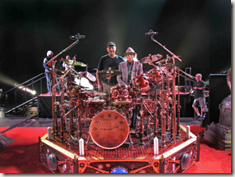 November
- Nov 13 - Seattle show!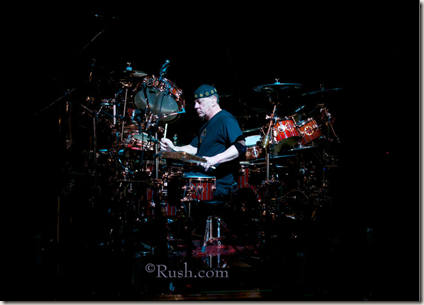 My son Drew's first Rush show!
- Nov 17 - Tour Update #2 from NEP: "Witness to the Fall"
- Nov 18 - Lorne "Gump" Wheaton's new site launches

If you haven't been to Gump's new site yet, I think you'll want to check out some of these amazing behind-the-scenes videos!
- Nov 20 - Rush inducted into RockWalk in Los Angeles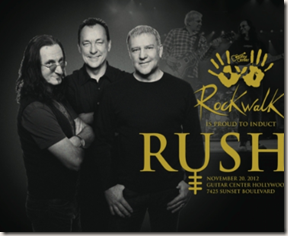 - Nov 26 - Phoenix show filmed for upcoming DVD
This was my second and final show on the CA tour. Rush was on fire!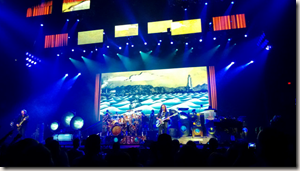 - Nov 28 - Dallas show filmed for upcoming DVD
- Nov 30 - Randy Johnson's Phoenix show photos published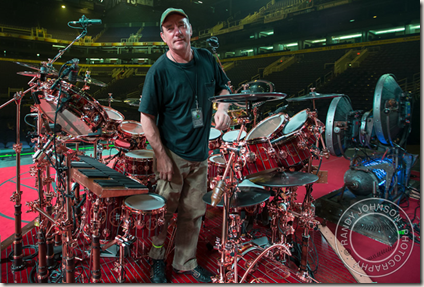 December
- Dec 2 - Last show in Houston (show #34)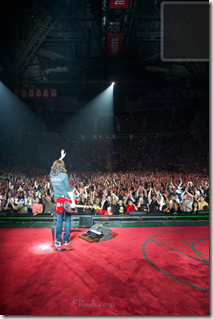 - Dec 11 - Rush inducted into the Rock and Roll Hall of Fame. Other artists and non-performers in the class of 2013 include: Public Enemy, Heart, Randy Newman, Donna Summer, and Albert King, Lou Adler, and Quincy Jones.
- Dec 13 - Tour update #3 from NEP: Adventures in the Wild West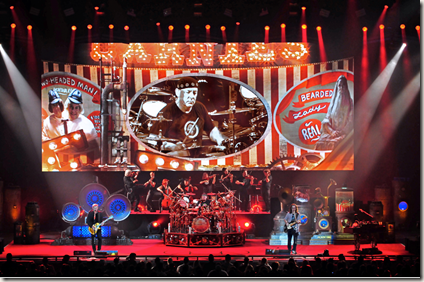 Labels: Year in review
posted by AndyO @ 3:49 PM
0 comments