Tweet
Clockwork Angels tour 2012: "All the highlights of that headlong flight"
I've been following a lot of Rush tours over the years -- both as a concert-goer and, for the past 8 years, on this blog. The Clockwork Angels show was definitely Rush's most elaborate spectacle to date.
So much happened during this tour, I thought this was a good time to look back at the highlights (some of them for Rush, and some for me). Enjoy.
Sep 7, 2012: Opening night in Manchester, NH
As I followed along on Twitter, I was genuinely surprised with the changes to the show, including:
Deep cuts from Power Windows, Grace Under Pressure, and Roll the Bones for the first time in many years
A small orchestra joining the band onstage as they played through much of Clockwork Angels and a few other songs.
Three (yes, three!) drum solos by Neil Peart (still playing his Time Machine kit)
Neil Peart firing T-shirts from a cannon!
Sep 9: Washington, DC - More set changes
Rush changed the set again, swapping out multiple songs. This trend would continue until they settled on essentially two main sets. To see how many sets Rush played on this tour, check out this handy table at Power Windows. (In case you were wondering, there were 12 different sets.)

Neil Peart interviewed as part of New York Times article about drumming and fitness.
Sep 10 - Rush receive "Album of the Year" from Progressive Music Awards for Clockwork Angels
Sep 11 - Neil Peart cover story in DRUM!
Sep 12 - Neil's 60th birthday
While Neil celebrated this major milestone on the road, there was also a virtual party in the Twitterverse with Rush fans, friends, and colleagues wishing the Professor many happy returns.
Sep 17 - Clockwork Angels the Novel debuts at #18 on the New York Times bestsellers list
Oct 5 - Rush nominated for the Rock and Roll Hall of Fame
I was actually pretty stunned by this one. I never thought they'd get nominated (let alone get inducted).
Oct 11 - Tour Update #1 from NEP: "The Better Angels"
Oct 15 - Taking Center Stage companion book released
Oct 15 and 17 - Rush plays two nights in Toronto
Neil Peart meets Don George, his first drum teacher, for the first time in over 45 years.
Nov 13 - Seattle show!
My son Drew's first Rush show
Nov 17 - Tour Update #2 from NEP: "Witness to the Fall"
Nov 18 - Lorne "Gump" Wheaton's new site launches
If you haven't been to Gump's new site yet, I think you'll want to check out some of these amazing behind-the-scenes videos!
Nov 20 - Rush inducted into RockWalk in LA
Nov 26 - Phoenix show filmed for upcoming DVD
This was my second and final show on the CA tour. Rush was on fire!
Nov 28 - Dallas show filmed for upcoming DVD
Nov 30 - Randy Johnson's Phoenix show photos published
Dec 2 - Last show in Houston (show #34)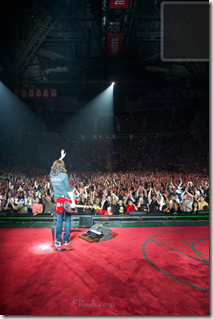 Dec 11 - Rush inducted into the Rock and Roll Hall of Fame
Dec 13 - Tour update #3 from NEP: Adventures in the Wild West
Labels: Clockwork Angels tour 2012
posted by AndyO @ 11:13 AM
0 comments