Tweet
Neil Peart DW Limited Edition Icon snare: More details
We're starting to get more details about the three DW Limited Edition "Icon" snares that were announced last week at the NAMM show. Here's what we know:
There are three snares being produced, including a Neil Peart Time Machine design, as well as one for Nick Mason of Pink Floyd and one for Roger Taylor of Queen.
DW is making 250 of each snare.
The Time Machine Icon snare drum is a 6.5x14-inch 10-ply Collector's Series Maple VLT (Vertical Low Timbre).
A portion of the proceeds will go to the charities of each drummer's choice. Neil Peart's charity is The Princess Margaret Cancer Foundation in Toronto, Canada.
As far as price goes, one drum store in England has listed the Time Machine drum for 1399 pounds -- or around (US) $2,308. Yes, this is a lot of money for a snare drum -- but these are limited editions being produced at a level of craftsmanship far above typical snares.
To purchase a snare, DW recommends contacting a dealer from their locater map. In the past, Neil Peart limited edition items have sold out, so if you're interested I wouldn't wait.
DW has also released a handy inlay legend (PDF) detailing the different woods used in each drum. Just to be clear (because I didn't understand this at first), the designs and colors aren't created by stencils and paint, but by inlaying different woods into the drum itself.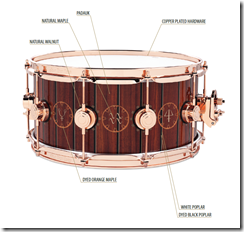 The dark wood used throughout the drum is padauk.
The Time Machine symbols are made of natural maple.
The gears surrounding the Time Machine symbols are made of dyed orange maple.
The cogs around the lugs are made of natural walnut.
The vertical borders are made of white poplar and dyed black poplar
A promotional video is now available from DW about these drums:
Neil says in the video, "This is made to replicate the exact snare drum that I use -- not only in concert, but on every one of our records since I started using it -- five or six years, I would suppose. It's a personal instrument in that it is the drum that I play, but it is an evocation of the design that we came up with for the live kit -- the Time Machine kit. This is a further development, if you like, of that technique of what it takes to do this kind of inlay, and what it takes to create such a beautiful piece of art and craft."
Here's a close-up of the inlays in the snares (from left to right, Roger Taylor, Neil Peart, and Nick Mason):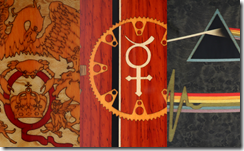 The "Icons" and their snares: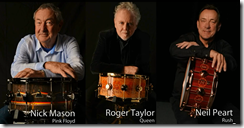 Labels: Drum Workshop, drums, Icon Limited Edition snare
posted by AndyO @ 5:46 PM
0 comments