Tweet
DW introduces Neil Peart Collector's Icon Series snare
At the NAMM 2014 show held this week, DW introduced three new Collector's Icon Series snares to honor Neil Peart (Time Machine), Roger Taylor (Queen's crest), and Nick Mason (Dark Side of the Moon). You can download the PDF brochure here.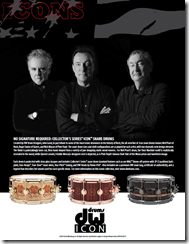 You might be wondering how this version is different from previous Neil Peart Time Machine Collector's snares. According to the brochure, the Time Machine motif is "...is painstakingly laser-cut, then hand-inlayed from a variety of jaw-dropping exotic wood veneers."
This means the designs on the drum aren't painted -- they're laser cut from different exotic wood veneers and hand inlayed. The design and construction is illustrated in the DW video (at the 9:20 mark).
Here's a close-up of the snare: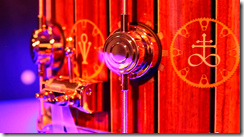 Here's what the "gear" looks like before it's inlayed: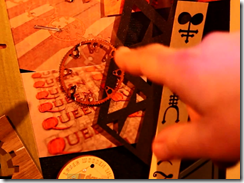 DW video:
Here's the text from the official brochure:
Created by DW Drum Designer, John Good, to pay tribute to some of the most iconic drummers in the history of Rock, the all-new line of Icon snare drums honors Neil Peart of Rush, Roger Taylor of Queen, and Nick Mason of Pink Floyd. The snare drums sizes and shell configurations are as played by each artist, with one dramatic new design element. The finish is painstakingly laser-cut, then hand-inlayed from a variety of jaw-dropping exotic wood veneers. For Neil Peart's drum, the Time Machine motif is realistically created in the wood, while Queen's ornate, Freddie Mercury-designed crest is depicted, as is Pink Floyd's famous Dark Side of the Moon prism and waveform image.

Each drum is protected with clear gloss lacquer and includes Collector's Series snare drum standard features such as our MAG throw-off system with 3P (3 position) butt-plate, True-Hoops, True Tone snare wires, True-Pitch tuning, and DW heads by Remo USA. Also included are a premium DW snare bag, certificate of authenticity, and a legend that describes the woods used for each specific drum. For more information on this iconic collection, visit: www.dwdrums.com.
There's no list price yet, but you can imagine with this level of craftsmanship, these snares are not going to be cheap.
Labels: Drum Workshop, drums, NAMM
posted by AndyO @ 7:40 PM
0 comments