Tweet
Clockwork Angels graphic novel coming March 2014
Even though Rush won't be on the tour or releasing a new album during 2014, fans now have something to look forward to: a graphic novel adaptation of Clockwork Angels.
Written by Kevin J. Anderson, who also wrote Clockwork Angels: The Novel, and illustrated by artist Nick Robles, the first of six issues will be published in mid-March 2014 by Boom! Studios.
You can pre-order Clockwork Angels #01 on the Boom! Studios website.
Today, Anderson posted a new blog entry CLOCKWORK ANGELS Graphic Novel-Meet the Artist, Nick Robles. He writes of Robles:
Neil and I both loved his work.  And when Nick started sending a flood of concept sketches of the characters--Owen Hardy, Mr. Paquette, Lavinia, the Pedlar, the Watchmaker, the Anarchist--and steamliners, the pedlar's steampunk cart, we knew we had the right guy.  AND he's a Rush fan, so what more could we ask for?
Also, in case you missed it: In early December, USA Today interviewed Anderson and Peart about the upcoming adaptation, which also included some concept art by Robles.
Can't wait to see how this project comes together!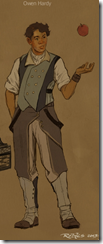 Labels: Clockwork Angels Graphic Novel, Kevin J. Anderson, Nick Robles
posted by AndyO @ 6:32 PM
0 comments