Tweet
Neil Peart Update: November 2013 - "Angel's Landing"
Neil has updated his website with a new story. You can read it here:
Angel's Landing - November 2013
Update - 11/11/13
I finally had a chance to read through this update. As always, there's a lot of great stuff here. The story focuses on a road trip through southwestern Utah, where Neil hikes and takes spectacular photos.
Neil's visits through Zion and Bryce National Parks give him time to reflect on the U.S. government shutdown and how it might look to someone visiting from another country:
These foreign visitors, like the American seniors who also visit the national parks outside the summer months, might have waited all their lives for this one opportunity. And there are tens of thousands of Americans, especially in the West, whose livelihoods are tied to the national parks. (One county in Utah, San Juan, claims seventy percent of its residents depend on the parks for their family income.) As one Utah official said, "It's not like we can miss October and make it up in January."
Neil also reflects on his Ghost Rider time, when he visited this area of the U.S. 15 years ago:
The date of my climb to Angels Landing was October 15, 2013, exactly fifteen years less a day since my one previous visit to the national parks of Southwestern Utah, on my Ghost Rider travels. As part of my planning this time, I reread those passages in the book, especially the letters to Brutus and Mendelson Joe from Zion and Bryce Canyon. I had not looked at those pages for many years, ever more unwilling to relive those times, so I was hesitant.
Oh, and Neil talks about his new car, an Aston Martin Vanquish.
I always avoid showing, or writing much about, the material possessions I have been fortunate enough to acquire. Part of that is native Canadian modesty--not wanting to seem to brag--but part of it is the wish not to arouse envy.
Unfortunately, he has more problems with, um, wildlife running out in front of him.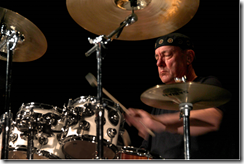 Labels: neilpeart.net, written by NEP
posted by AndyO @ 8:09 PM
0 comments