Tweet
Rush R40 tour begins tonight!
Tonight Rush kicks off their R40 Live tour in Tulsa, Oklahoma. As most fans know, this tour could be Rush's last major tour, so it should be a big celebration full of many surprises.
SPOILER Alert: I'll be updating the following places tonight and throughout the tour:
Speaking of spoilers, if you're interested in following the set list as it's played, see the following sites: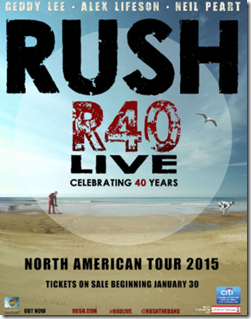 If you're going to the show tonight, have fun!
Labels: R40
posted by AndyO @ 4:06 PM
0 comments