Tweet
Origin of Neil Peart documentary
In 2009, filmmaker Paul Miil released the documentary The Big Story of Small Potatoes. It explored the roots of the lost music scene of Niagara, circa 1964-1974, of which Neil Peart was a musician. As part of his research, Miil spoke to many musicians who played with Neil in his early years, as well as contemporary drummers.
Now, Miil has recut the footage to assemble a new 48-minute documentary, The Origin of Neil Peart. Miil explains in the intro:
Before the footage from The Big Story of Small Potatoes was lost to time, I thought it prudent to fill the commitment I made to myself in 2007 to make the Neil Peart documentary. Neil Peart's band mates and contemporary drummers are the true character of this film. I had a ton of fun researching and finding them, and thank them all for their participation. In any event, it may be more accurate to have the "many" explain the "one"...
Thanks to Paul Miil for documenting this important musical history.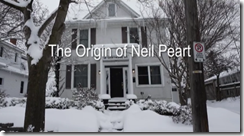 Labels: Origins of Neil Peart, The Big Story of Small Potatoes
posted by AndyO @ 8:41 PM
0 comments