Tweet
R41 Survey Results - Question 2: If Rush played one complete album on this tour what should it be?
This post includes the results from a Neil Peart News Facebook page survey (Question 2): If Rush played one complete album on this tour (like they did with Moving Pictures on Time Machine tour), what should it be?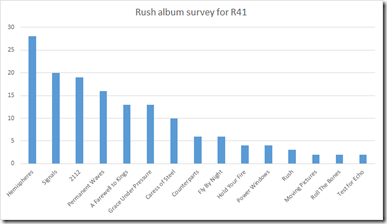 Top 5 albums
1. Hemispheres (19%): Like the first survey, there are a lot of fans out there who want to hear Hemispheres in its entirety. For Rush to perform this album from beginning to end would mean some serious de-tuning (after all, when Hemispheres in the 1970s, was recorded outside of Geddy's stratospheric range). All depends on whether:
Rush wants to play Hemispheres again. The answer might be obvious to some ("Of course they do!"), but it might be a little more nuanced than that. As revealed in Beyond the Lighted Stage, making this album ended up being one of the more painful production experiences for the band. And these emotional connections seem to play a big part in how the band approaches their back catalog. For example, I can't ever see Rush playing Vapor Trails in its entirety either due to the the painful memories it surfaces for Neil Peart. (He wasn't even able to listen to Vapor Trails remixed.)
Rush can play Hemispheres without compromising the songs. After seeing Geddy try to sing "Prelude" in its (I believe) original key during the Counterparts tour, it's clear the band would need to bring it down a few steps -- like they did with the "2112" on the Test for Echo tour. However, there's only so far you can tune down a song before it loses its spirit. 
One glimmer of hope is that Rush brought back a de-tuned "Circumstances" on the 2007 leg of the Snakes & Arrows tour -- something I never saw coming. But then for the 2008 leg of that tour, Rush replaced "Circumstances" with another Hemispheres song, "The Trees." So, a lot of fans, I'd love to see Rush play all of Hemispheres. I just don't think it's very likely.
2. Signals (13%): Of all the albums in Rush's vast back catalog, this would be a great choice. Even though the members of Rush have expressed disappointment with this album -- specifically around the treatment of the guitar in the mix -- it still represents a bridge between the Rock/New Wave-influenced Permanent Waves and Moving Pictures and the more 80s keyboard-oriented Grace Under Pressure, Power Windows, and Hold Your Fire.
Rush has played many of the songs from Signals in the past few tours, including: "Subdivisions" (opener for the Clockwork Angels Tour), "The Analog Kid" (also on the Clockwork tour), "The Digital Man" (Snakes & Arrows tour), and "New World Man" (Vapor Trails tour). Many of the B-side songs haven't been heard since the Signals tour, and "Losing it" has never been played live. Even if you're not a big fan of Signals, take a look at the way Rush approached these 80s keyboard-oriented songs on the Clockwork Angels tour. With the guitar taking its proper place in the mix, songs like "The Big Money," "The Analog Kid," "Grand Designs" and "Force 10" all come to life. I think the same thing would happen if Signals were played from beginning to end.
3. 2112 (12.6%): Yes, Rush played the song "2112" in its entirety on the Test for Echo tour in 1996 and 1997, and it was glorious. I still remember going to see them in San Diego and being completely surprised (even though the radio station doing a contest outside the arena even hinted at it).
While I love 2112 for what it represents -- the album where Rush discovered their true voice and also earned their musical independence -- there are some major showstoppers, like "The Twilight Zone" or "Tears." (Apologies to all the fans who would love to hear these songs.) My money might be on them bringing back the "2112" suite again, but even this is a slim chance, given its prominence in 1996/1997.
4. Permanent Waves (10.6%) - This is the other album that has a higher chance of being played in its entirety. First of all, Rush has added many its songs to the set list in the past 10 years. And it was a major surprise when they broke out "Entre Nous" on the "Snakes & Arrows" tour -- the first time they'd played it live, actually. The other thing this album has going for it is "Jacob's Ladder." According to the previous poll, this is the song most fans want to hear. 
5. Tie between:
A Farewell to Kings (8.6%) - Like Hemispheres, a lot of the songs on this album are outside of Geddy's range -- at least in the original tuning. When they've played cuts from this album in the past 10 years, they're either abbreviated ("Cygnus X-1") or rearranged ("Closer to the Heart"). Plus, it has "Madrigal" -- which I actually don't mind as much as, say, "Tears." But Rush was still learning how to write a their version of a ballad (they actually got close with "Closer to the Heart," but I'd call that a "half-ballad" with its heavy second half).
Grace Under Pressure (8.6%) - A few people pointed out that Rush could never play Grace Under Pressure in its entirety because of "Afterimage" and what it represents to the band (take a look at the dedication on Different Stages). I have to agree. Plus, it's worth noting that even when they were playing "Afterimage" on the Grace Under Pressure tour, they replaced it with "Kid Gloves." In addition, they've played a lot of material from this album it in the past 10 years. In fact, some songs -- "Red Sector A" and "Between the Wheels" -- have probably been overplayed in recent tours. What I'd like to see Rush bring back from this album are: "The Enemy Within" (especially if it's part of the Fear suite), "Red Lenses," and "Kid Gloves." 
Full list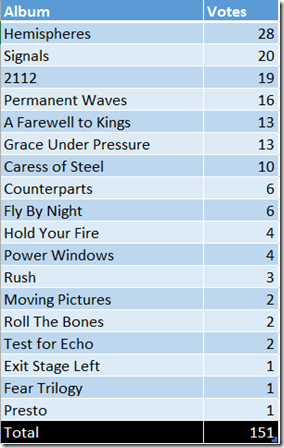 posted by AndyO @ 1:39 PM
0 comments