Tweet
Neil Peart update: April 2014 - "Telescope Peak Revisited"
Neil has updated his website with a new story (three months in a row now!). You can read it here:
April 2014: "Telescope Peak Revisited"
This story centers on the Professor's return to Death Valley National Park (where much of his
Taking Center Stage
DVD was filmed) -- as well as Telescope Peak. Here's an excerpt where Peart describes his previous summit and attempt of Telescope Peak:
I had last stood on that summit almost fifteen years before, in October, 1999. All unexpectedly, that place and time had marked a major turning point in my life--a hinge of fate, as it were. In writing my story of that time, in Ghost Rider, I came to realize that the hike up Telescope Peak was an important "plot point." Dramatic. Symbolic.
Five-and-a-half years later, in April 2005, I planned a second attempt on Telescope Peak, but was warned by the park rangers that the higher elevations had too much snow and ice to climb without winter mountaineering gear--crampons and ice axes and such. I didn't have any of those on my motorcycle. (Note to self: a man of your age and station ought to possess an ice axe.) So that day I hiked up nearby Wildrose Peak instead, at only 9,064 feet, and still had to work around or through a fair amount of snow.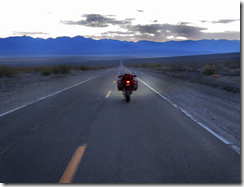 Oh, and there's a
big bonus
in this story -- especially for those interested in the creative process: Neil has included lyrics for a song that didn't make it onto Vapor Trails: "
Telescope Peak
." He's also added some songwriter's commentary. For me, I enjoyed how it was a kind of companion piece to both "Ghost Rider" and "Workin' Them Angels." You have to wonder how many of these gems Neil has hidden away in his "scrapyard"?
Labels: neilpeart.net, written by NEP
posted by AndyO @ 6:51 PM
2 comments