Tweet
Clockwork Angels: Review roundup and sales
Clockwork Angels has been released for a little over three weeks now, and it's mostly been receiving rave reviews. The Metacritic.com score for Clockwork Angels is 82% (Universal Acclaim), although this is only based on 8 reviews (as of 7/5/12).
My own feeling about this album is similar to what I've been reading: It's one of the most ambitious albums we've ever heard from Rush -- and also one of the heaviest. Peart's drumming has arrived at a sweet spot that brings together the best of composition, power, groove, and improvisation.
Read more Clockwork Angels reviews at Cygnus X-1.net and PowerWindows.
As far as sales go, Clockwork Angels debuted at #2 on the Billboard 200 for June 30, #10 for July 7, and #26 for July 14. Rushisaband reported on June 30, "The exact sales numbers for the week from SoundScan were 26,756 units sold compared to 103,172 last week."
Here are the full charts for 7/14/12: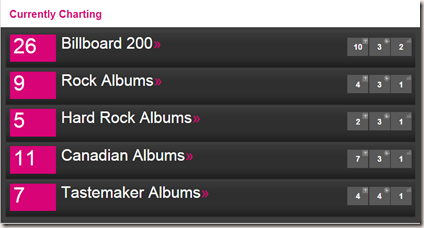 Here are some review excepts:
Rolling Stone - 3.5/5
It's got a dystopian sci-fi plot and lyrics like "All I know is that sometimes the truth is contrary." But the first Rush album in five years isn't just one of the band's Rushiest; it's also very good -- frenetic and heavy, low on prog thought puzzles, high on power-trio interplay that could put guys half their age in the burn ward. Nickelback-like meathead modern-rock production actually adds power to these ancient masters' gnomic turgidity: Even the seven-minute tripartite title track burns rubber, and Neil Peart's dragon-tailed paradiddles and Alex Lifeson's helix solos make the koanic hokum of Peart's lyrics feel like a sermon from the peak of Mount Nerd.
Still: tunefulness persists. "Headlong Flight" is all bubbly bass, muscular guitar, and busy drumming, but by the time they lock into a surging groove on the triumphant chorus, it brings to mind how every "By-Tor and the Snow Dog" had a "Fly by Night," every "Xanadu" a "Closer to the Heart." The title track is pure Joshua Tree ebullience shot through with King Crimson courtliness, right down to the trebly reverb and chugging cymbal drive. Rush really wants you to believe in this album, and by the time Alex Lifeson takes his solo, you just might. (You'll have to overlook that the next three songs work along very similar lines and that the album clocks in at 1:06:07, but still.)
But with Clockwork Angels, Rush have escaped these trappings of late-career complacency. For this twentieth LP, the trio has opted for the timeless prog convention: the concept album. They're no stranger to this format, having mastered it many times before. But while Hemispheres this isn't, it's an engrossing story; Peart's lyrics are the best they've been in a long time. The proliferation of prog bands worldwide has made concept records a dime a dozen, but these old dogs have breathed fresh air into this well-worn format. Clockwork Angels, while musically strong, isn't anything revelatory given the high bar Rush set for themselves in the prog pantheon. Conceptually, however, it's the strongest progressive rock concept album since Dream Theater's Scenes from a Memory.
In terms of sound, this album features Rush at its hard-driving best, dominated by the ten combined strings of Lifeson and Lee and the aggressive drumming of Peart. Yet some of the hardest songs, such as "Caravan," and "BU2B," soar into some soulful, serene moments. In contrast, "Headlong Flight" is powered almost from beginning to end by adrenaline-fueled bass. Quieter songs feature strings or piano performed by outside artists. The closing song, "The Garden," combines strings with some nice acoustic work from Lifeson; it is one of the band's softest and most reflective pieces to date.
What we have here is Rush's bassiest production quake ever. Neil's drums have never sounded so fat, warm and powerful, and Geddy and Alex storm on along with him, through track by blustery track, many neo-Maiden- and Death Magnetic-like in their sodding of conventional verse/chorus structure in redefinition of the word "break." The boomy resonance of all this was captured inside of three months at a brand new/one-year-old studio in Toronto called Revolution Recordings, and through an approach that had Geddy and Alex writing their crazy musicks, then handing it to Neil to make sense of. The Professor then supposed for himself a pile of spontaneity (an oxymoron, until you hear how much exertion is necessary through the album's 66.6 minutes), literally conducted with a drumstick by producer Nick Raskulinecz, who would and obviously could suggest fills by singing them like a Three Stooges routine (which makes him the fourth Stooge).
The result is Neil's grooviest playing ever, groove being the one area Neil, by necessity of Rushwriting, rarely bothered himself with -- I think he'd have to admit he's a white man playing the drums. Ergo, he gorgeously falls off the end of bars all around Clockwork town, helping to create a hot mess of a '70s prog album, the type that would never sell, but to fellow English cynics born out of tyme, squelching through the moors.
At 66 minutes, there is a lot to take in on Clockwork Angels (Roadrunner), so much that it requires several listens for it all to start to settle in, so it's a good thing that those two great 2010 songs "Caravan" and "BU2B" are the first two tracks, that familiarity easing listeners in to the sprawling album. In retrospect it comes across as an ingenious move by the band, because the meat of the album, those middle tracks, are more of a challenge. At seven and a half minutes the title track is a suite-like composition that careens from shimmering to thunderous, Lifeson showing great dexterity, his guitar work lively and unpredictable. A sense of defiance permeates "The Anarchist" as the threesome play insistently and forcefully, while "Carnies" sees them veering from slow, massive grooves to upbeat, melodic choruses. "Seven Cities of Gold", meanwhile, is built around a central riff that sounds straight from the first Rush album, simple, bluesy, and heavy.
Labels: Clockwork Angels, reviews
posted by AndyO @ 10:24 AM
0 comments