Tweet
Moving Pictures voted most influential Prog album
Rhythm and Music Radar readers have chosen Rush's Moving Pictures as the most influential Prog album of all time.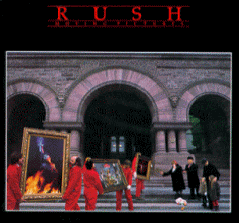 Their story provides an excellent analysis about why Moving Pictures is such an important album and drum performance (for Prog or any other genre). Here's an excerpt:
Your winners by a country mile, Neil Peart and Rush are the prog heavyweight champions as chosen by Rhythm and MusicRadar readers.

After their progressive proclivities reached a zenith on the albums A Farewell To Kings and Hemispheres, Rush showed signs of moving away from epic compositions towards more radio-friendly rock on 1980's Permanent Waves.

But it was on Moving Pictures that their new direction reached fruition as Geddy Lee, Alex Lifeson and Neil Peart proved they could write radio-friendly hits that were still musically rich and satisfyingly complex. The group recorded the album at Le Studio, Morin Heights, Quebec with Terry Brown who had been Rush's producer since their second album Fly By Night in 1975.

Characteristically, Peart came to the recording sessions with every groove, fill and flam meticulously planned out and rehearsed. Seeking to try to capture the sound of the drums the way Peart heard them as he was playing, engineer Paul Northfield experimented with taping a PZM microphone to Peart's chest to capture the sound from the drummer's perspective.

The album became Rush's most successful, reaching Number 3 in both the US and UK charts. It opens with a track that remains a live standard to this day - 'Tom Sawyer'. As catchy as the song is, the drumming is enormously detailed.
 Read the rest of the story here.
Also topping the list of 30 albums were:
Systematic Chaos (2007) - Band: Dream Theater; Drummer: Mike Portnoy
AEnima (1996)- Band: Tool; Drummer: Danny Carey
The Lamb Lies Down on Broadway (1974) - Band: Genesis; Drummer: Phil Collins
Fear of a Blank Planet (2007) - Band: Porcupine Tree; Drummer: Gavin Harrison
Fragile (1972) - Band: Yes; Drummer: Bill Bruford
The Dark Side of the Moon (1973) - Band: Pink Floyd; Drummer: Nick Mason
In the Court of the Crimson King (1969) - Band: King Crimson; Drummer: Michael Giles
Labels: polls
posted by AndyO @ 12:43 PM
0 comments