Tweet
Neil Peart Dauz trigger pad available for purchase (limited quantities)
If you're interested in buying the exact Dauz trigger pad that Neil Peart uses on his kit, the manufacturer is selling a limited quantity (as of this writing, there are 42 left).
Here's a picture that Gump posted on his Twitter account recently, which includes the red Dauz pad: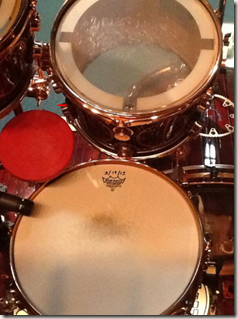 From the Dauz website:
Limited Edition 6" Pad
This is the EXACT Dauz Pad we custom designed for Neil Peart's new kit.
As you probably know, Rush is gearing up for a huge worldwide tour. Neil asked us to upgrade his current Dauz pad to one that matches his latest red and copper kit. Neil named her "Ruby".

For a very limited time, we are offering our customers who buy direct from Dauz the opportunity to own their own "Ruby".

This unique, one-of-a-kind pad will only be available for a very limited time. We only manufactured a limited amount. So when they are gone... they're gone!
Thanks to Rushisaband for the head's up!
posted by AndyO @ 7:34 PM
0 comments