Tweet
Neil Peart Hockey Theme video
The video for Neil Peart's version of The Hockey Theme is now available on TSN.
Click to watch the video on TSN. (Unfortunately, you'll need to wait through an advertisement.)
Or you can watch a different version of the video on YouTube:
There's also a gallery of the photo shoot.
An official mailing from Rush included the following:
Peart's rendition of The Hockey Theme also available to fans on iTunes on January 19 and his custom drum kit used to record "Canada's second national anthem" to be donated to the Hockey Hall of Fame.
Thanks to Roman Dino for the head's up!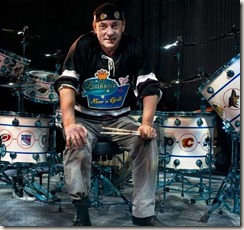 Labels: Hockey Theme
posted by AndyO @ 11:46 PM
0 comments