Tweet
New articles about the new Neil Peart DW NHL Logo drum kit
DW posted an article about building the new DW NHL Logo kit for Neil Peart.
DW Builds NHL Logo Kit for Neil Peart's Rendition of the League's Official Theme Song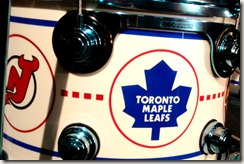 According to the article:
The set will be seen before each "Hockey Night in Canada" telecast and will also follow around the Stanley cup as it travels from arena to arena. Eventually, the set will wind up in the Hockey Hall of Fame in Toronto, Canada.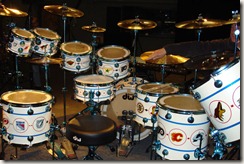 Sabian artist rep Chris Stankee, who helped "tech" the sessions for the new Hockey Song, as Lorne Wheaton is on the road, also posted an article:
Neil Peart Records New Hockey Theme
There are some additional photos of the sessions on beyond20khz's Flickr account.
Finally, I found an interesting website that details the long negotiations between Delores Claman, composer of the Hockey Song, and CBC. After the negotiations collapsed and CBC announced a contest for a new song, CTV bought the song. The story is also detailed in this article in MacLean's.
Here's an excerpt from the MacLean's article, written on June 11, 2008:
Why the CBC would let (the Hockey Song) slip away is a puzzle for the ages. After years of trading on the cultural significance of its broadcast, the corporation appeared determined last week to jettison the hymn that called their fans to communion. On Friday, executives breezily announced a $100,000 contest to come up with a new theme, as if 41 years of tradition could be replaced in a summer jingle-off. A barrage of 1,500 calls and emails from angry viewers gave them pause, and on Monday they announced they wished to reopen talks with the help of a mediator. Yet, in words and in actions, CBC managers rejected the notion that the soul of the broadcast could be tied up in a few bars of music. "What Hockey Night in Canada is really about is hockey," Scott Moore, the executive director of CBC Sports, told one reporter. "Everything else is just window dressing."
Thanks to Rushisband.com for the head's up.
Labels: cymbals, Drum Workshop, drums, Hockey Theme, Sabian
posted by AndyO @ 6:28 PM