Tweet
New Neil Peart drum jam, master class, and chat
It's a great week for Neil Peart fans! On DrumChannel.com, you can watch the following:
1. Neil Peart Drum Jam - Part 1 - With Neil Peart, Terry Bozzio, and Joey Heredia (Free)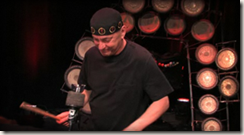 During a warm-up session with Neil Peart, Terry Bozzio, and Joey Heredia, the Drum Channel crew was so impressed, we started rolling the cameras and managed to capture this amazing musical performance.

We call this "Part 1" of the Neil Peart Drum Jam. The full length jam can be found as a "Bonus Lesson" in Neil's Master Class titled Frontiers of Composition and Articulation - available on DC later this week.
2. Live video webcast with Neil Peart, Terry Bozzio, and Doane Perry
On 6/18, at 6pm PST we have a live video webcast with...
- NEIL PEART (Rush)
- DOANE PERRY (Jethro Tull)
- TERRY BOZZIO (Frank Zappa, Missing Persons)
They'll be talking about progressive rock drumming and answering your questions in chat. This is gonna be huge, you won't want to miss this.
WATCH IT LIVE:
http://www.drumchannel.com/entertainment/42132.aspx
3. Neil Peart Master Class on DrumChannel.com - Now Available - $14.95
I just bought this but haven't watched it yet. I'll write up a review when I get a chance.
Here are the details:
YOU GET ALL 10 LESSONS AS A PACKAGE FOR 14.95.

Neil Peart's Master Class is a series of lessons that will give you creative concepts and applications to expand your musical vocabulary as he shares what he has learned in the areas of composition and articulation.

LAST UPDATED: 6/17/2009
TEACHER/S: Neil Peart
PRICE: $14.95

LESSON LIST [TOTAL LESSONS: 10]
Lesson 1 Lesson 2 Lesson 3 Lesson 4 Lesson 5 Lesson 6 Lesson 7 Lesson 8 Lesson 9 Bonus Lesson

DOWNLOADABLE RESOURCES
Workbook : Neil Peart Master Class Workbook
Labels: Drum Channel, videos
posted by AndyO @ 12:31 AM
0 comments