Tweet
Happy 63rd Birthday Neil Peart!
Neil Peart turns 63 today, Saturday, September 12. Neil Peart News would like to wish Bubba a Happy Birthday!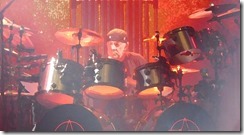 In honor of Neil's birthday, we've compiled a few PeartFactsTM for your enjoyment:
40 million+: Albums sold worldwide by Rush
25 million: Albums sold in the U.S.
544,525: People who saw Rush on R30 tour1
200,000: Miles of motorcycling in first 10 years1
21,000: Miles driven on R30 tour1
1,500: Age of oak used in R40 drum kits
2012: The year Rush received the Revolver Golden Gods Ronnie James Dio Lifetime Achievement award
1000s: Number of postcards sent to fans over the years
257: Pairs of drumsticks used on R30 tour (57 shows)1
213: Shows played on 2112 and All the World's a Stage tours (Aug 1976 - June 1977)
155: Shows played on the Rush tour (Feb 1974 - January 1975)
100: Shows played on the Moving Pictures tour (Sep 1980 - July 1981)
82: Book reviews in Bubba's Book Club
78: Singles released by Rush
50: Years playing drums (including one year of lessons starting in 1965)
41: Years making music with Rush
31: Years of bicycling1
24: Albums certified Gold
21: Years motorcycling1
20: Studio albums with Rush
19: Peak chart position for Feedback (US, 2004)
18: Months living abroad in London, England (June 1971 - Dec 1973)
17: Peak chart position of Rush Replay X3 (US, 2006)
16: Peak chart position for Presto (US, 1990)
15: Number of times voted "Best Recorded Performance" by the readers of Modern Drummer
14: Albums certified Platinum
13: Number of drum kits played on Rush tours (2 Slingerland, 2 Tama, 3 Ludwig, and 6 DW)
12: Cymbals used on "modern" drum kit (14 if you count both hi-hats)
11: Number of drums (toms, floor toms, snares, bass) on modern drum kit
10: Live albums made with Rush (11 if you count the upcoming R40 Live album [TBA])
9: Duration of "Der Trommler" drum solo (mins)
8: Peak chart position of "Tom Sawyer" (1981) and "Subdivisions (1982) singles (U.S.)
7: Grammy nominations (including one for his drum solo, "O Baterista" from Rush In Rio)
5: Number of times Neil won DRUM! magazine's "Drummie" award
2: Novels co-written with Kevin J. Anderson
1: Number of major league sports theme songs arranged and performed: "The Hockey Song"
Unknown: Times people have mispronounced "Peart" (for the record, it rhymes with "ear")
1Peart, Neil (2007-09-25). Roadshow: Landscape with Drums: A Concert Tour by Motorcycle (p. 397). National Book Network - A. Kindle Edition.
Labels: birthdays
posted by AndyO @ 12:00 AM
0 comments