Tweet
Drummer Freddie Gruber dies at age 84
Update 10/13/11: There are two new articles:
------------------------------
I was saddened to hear of Freddie Gruber's passing yesterday at the age of 84. He will be missed.
Gruber became known to Rush fans in the 1990s after Neil took off time to study with him. Gruber was instrumental in helping Neil change his feel and technique, culminating in the release of Rush's 1996 release Test for Echo.
In his instructional video A Work in Progress, Peart discussed many of Gruber's "dictums" and lessons. Gruber would join Neil in later videos, including the Drum Channel Master Class "Frontiers of Composition and Articulation."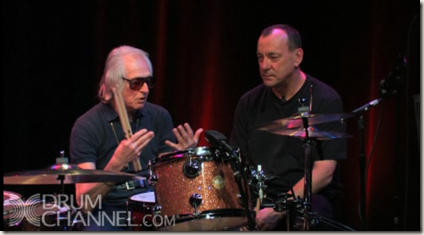 In the 1995 Modern Drummer article, "Starting Over," Neil recounted his journey with Freddie Here's an excerpt:
A lesson with Freddie Grubber is not about notes beats, or "chops." It's about the fingers, the wrists, the ankles, the feet - about the way the body moves naturally. In the same way, there is no Freddie Grubber "method" - he changes his approach to suit each individual, adapting his knowledge and experience to help accentuate your strengths and correct the weaknesses. Freddie's only goal, in his own words, is "to make the best possible you."

John Riley described Freddie to me as a "conceptual teacher," but that seems too dry for a character like Freddie, or for the roller coaster ride of studying with him. Whenever Freddie got excited about what he was trying to impart, he became a ball of pure energy - intensely earnest and physically animated - and my own energy level had to keep up with his. It wasn't easy.

To demonstrate the point he was making, Freddie did a little music hall dance for me, and I realized what he was showing me: It isn't about the steps, for most of the "dance" takes place in the air. He gave other examples: a piano player's fingering!, a cellist's bowing motion, a boxer' s stance. And - he took a deep breath - "playing the drums."

And then I saw it clearly for the first time - when we strike a drum with a stick or pedal-beater, the result is a note being sounded. But if you think about it, almost the whole motion is "non-note" - which is to say, it is the movement that accomplishes that note. So Freddie's unspoken method says, why not concentrate a little on the "non-note," since that is the major part of what we do?
Drum Channel has posted two free "Secrets from the Pros" videos to honor Freddie.
A great Jazz Times article about Freddie: "Freddie Gruber: None of a Kind."
Labels: Freddie Gruber
posted by AndyO @ 9:00 PM
0 comments