Tweet
Neil Peart featured in first issue of iDrum magazine
In the first issue of iDrum online magazine, Neil Peart is featured in a great 55-minute video interview, conducted by drummer Jamie Borden. You can check out the interview in this unique interactive magazine here: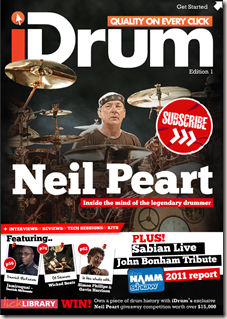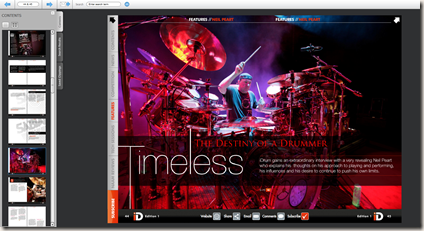 There's also a contest to win some NEP gear:
As if that wasn't enough the first issue will also feature a massive competition, giving readers the extraordinary opportunity to win the ultimate Neil Peart package. Worth in excess of $15,000, this piece of drumming history includes a set of four of Neil's favourite DW touring snares in a red velvet lined road style display case, plus a set of Sabian Paragon Cymbals and a brick of Neil's custom designed ProMark sticks. This is a once in a lifetime chance to own some seriously collectable Neil Peart signature products, all you need to do to enter is subscribe for FREE!
Also check out the short interview with Lorne Wheaton in the NAMM section of the magazine.
Thanks to Power Windows for the head's up!
posted by AndyO @ 12:30 AM
0 comments