Tweet
Drum Workshop "Time Machine" collectable reproduction snare
Drum Workshop is now offering a "Time Machine" collectable reproduction snare. No word on pricing or where to buy at this point.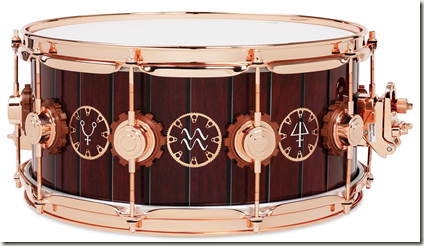 Collector's Series Specialty Snare Drums - Drum Workshop Inc.
Created to commemorate Neil Peart's latest drum set creation, "The Time Machine", each snare is an exact recreation of the drum Neil plays on tour. It's not a signature snare drum, but rather a collectable reproduction. The 6.5x14" Collector's series North American Maple shell with VLT (Vertical Low Timbre) technology provides optimal crack, warmth, bottom end and sensitivity. The drum is painstakingly finished with copper leaf-applied graphics and hand airbrush work. Custom copper hardware completes the look. Also standard is a MAG throw-off system with 3P butt plate, 3.0 True Hoops, True Tone snare wires and DW Heads by Remo USA. Available for a limited time only.
I have a feeling that "exact recreation/collectable reproduction" means this will be more expensive than the usual signature snare drum models from DW.
Thanks to Rushisaband for the head's up!
Labels: Drum Workshop, drums
posted by AndyO @ 10:00 PM
0 comments