Tweet
Rush Announces 2010 Tour Dates
Today, Rush announced their 2010 Tour Dates for "The Time Machine Tour." From the PR Newswire story:
Announced today, The Time Machine Tour is an evening with Rush, where they will perform their classics, give a taste of the future -- and for the first time ever -- feature the Moving Pictures album live in its entirety.
The story also includes a footnote that "additional cities and dates to be announced."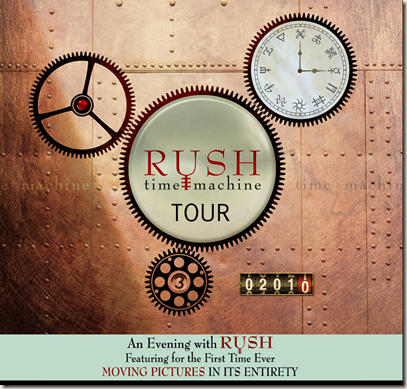 | | | | |
| --- | --- | --- | --- |
| Date | City | Venue | Tickets |
| 6/29 | Albuquerque, NM | Hard Rock Casino Albuquerque Presents The Pavilion | On sale April 17 |
| | | | |
| 7/1 | Kansas City, MO | Starlight Theatre | On sale soon |
| | | | |
| 7/2 | Milwaukee, WI | Summerfest | On sale April 17 |
| | | | |
| 7/5 | Chicago, IL | Charter One Pavilion | On sale April 17 |
| | | | |
| 7/9 | Sarnia, ON | Rogers Sarnia Bayfest | On sale April 17 |
| | | | |
| 7/13 | Toronto, ON | Molson Canadian Amphitheatre | On sale soon |
| | | | |
| 7/15 | Quebec City, QC | Festival d'�t� de Qu�bec | On sale April 28 |
| | | | |
| 7/17 | Toronto, ON | Air Canada Centre | On sale soon |
| | | | |
| 7/19 | Uncasville, CT | Mohegan Sun | On sale April 16 |
| | | | |
| 7/21 | Philadelphia, PA | Susquehanna Bank Center | On sale soon |
| | | | |
| 7/23 | Saratoga Springs, NY | SPAC | On sale April 16 |
| | | | |
| 7/24 | Wantagh, NY | Nikon at Jones Beach | On sale April 17 |
| | | | |
| 8/5 | Salt Lake City, UT | USANA Amphitheatre | On sale soon |
| | | | |
| 8/7 | Seattle, WA | White River Amphitheatre | On sale April 17 |
| | | | |
| 8/9 | San Francisco, CA | Shoreline Amphitheatre | On sale April 16 |
| | | | |
| 8/11 | Los Angeles, CA | LA Forum | On sale soon |
| | | | |
| 8/13 | Irvine, CA | Verizon Wireless Amphitheater | On sale soon |
| | | | |
| 8/14 | Las Vegas, NV | MGM Grand Garden Arena | On sale soon |
| | | | |
| 8/16 | Denver, CO | Red Rocks Amphitheatre | On sale April 17 |
| | | | |
| 8/20 | Wichita, KS | INTRUST Bank Arena | On sale soon |
| | | | |
| 8/22 | St. Louis, MO | Verizon Wireless Amphitheater | On sale soon |
| | | | |
| 8/25 | Omaha, NE | Qwest Center | On sale soon |
| | | | |
| 8/27 | St. Paul, MN | Minnesota State Fair | On sale April 17 |
| | | | |
| 8/29 | Columbus, OH | Nationwide Arena | On sale soon |
| | | | |
| 8/31 | Allentown, PA | Allentown Fair | On sale April 24 |
| | | | |
| 9/2 | Syracuse, NY | New York State Fair | On sale April 17 |
| | | | |
| 9/3 | Holmdel, NJ | PNC Bank Arts Center | On sale April 17 |
| | | | |
| 9/14 | Boston, MA | TD Garden | On sale soon |
| | | | |
| 9/16 | Pittsburgh, PA | Consol Energy Center | On sale soon |
| | | | |
| 9/18 | Washington, DC | Jiffy Lube Live Amphitheater | On sale soon |
| | | | |
| 9/21 | Tulsa, OK | BOK Center | On sale soon |
| | | | |
| 9/23 | San Antonio, TX | AT&T Center | On sale soon |
| | | | |
| 9/25 | Houston, TX | Cynthia Woods Mitchell Pavilion | On sale soon |
| | | | |
| 9/26 | Dallas, TX | Superpages.com Center | On sale soon |
| | | | |
| 9/29 | Atlanta, GA | Verizon Wireless Amphitheatre @ Encore Park | On sale April 30 |
| | | | |
| 10/1 | Tampa, FL | Ford Amphitheatre | On sale soon |
| | | | |
| 10/2 | West Palm Beach, FL | Cruzan Amphitheatre | On sale soon |
Labels: Clockwork Angels, Rush 2010 Tour
posted by AndyO @ 8:36 AM
1 comments